Announcements & News
Pavilion Rental Information 2023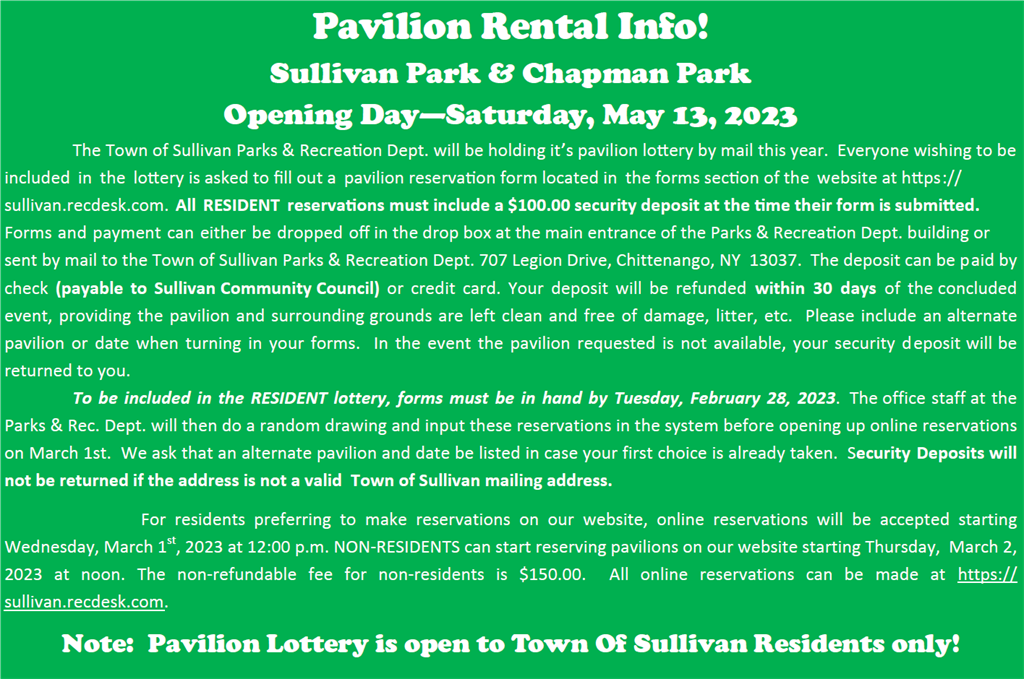 WAYS TO REGISTER!!
Register online at https://sullivan.recdesk.com with a credit card. You can use our website to register for programs from the comfort of your home or while on the go. Just find the program you wish to enroll in, click "register" and follow the prompts. Payments online are accepted via Visa, Mastercard and Discover*.

Of course, we will still accept mail registrations. Simply download our new Registration Form from the "Forms and Documents" tab on the left side and bring/mail to: Sullivan Parks & Recreation, 707 Legion Drive, Chittenango, NY 13037

If none of the above ways to register are convenient for you, there is a drop box installed at the Parks & Recreation Dept. outside the main entrance at 707 Legion Drive Chittenango, NY. Just put your completed registration form and check in a sealed envelope and drop it in the box. Please DO NOT leave cash!
*Please note: All credit card payments will be assessed a 3%, plus $0.30 processing fee. This fee cannot be refunded even if a program is cancelled.
Checks for all programs should be made out to "Sullivan Community Council."
Are You Connected?
Stay on top of all programs coming up by enrolling in our Email Alerts and by "liking" us on Facebook. When new program details are announced or a new brochure is released, we'll email the news directly to you... often before it is even available to the public. Click on the titles below to register for one or both.