Announcements & News
Town of Sullivan Programs Cancelled Indefinitely - Friday, March 13, 2020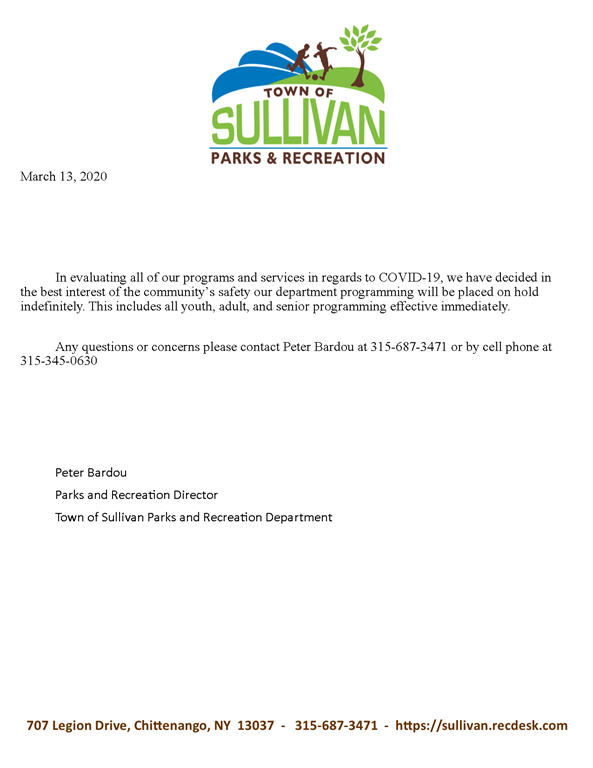 NOW YOU CAN REGISTER ONLINE!
You can now use this website to register for programs from the comfort of your home or while on the go. Just find the program you wish to enroll in, click "register" and follow the prompts. Payments online are accepted via Visa, Mastercard and Discover*.
Of course, we will still accept walk in and mail registrations. Simply download our new Registration Form from the "Forms and Documents" tab on the left side and bring/mail to: Sullivan Parks & Recreation, 707 Legion Drive, Chittenango, NY 13037
*Please note: All credit card payments will be assessed a 3%, plus $0.30 processing fee. This fee cannot be refunded even if a program is cancelled.
Checks for most programs should be made out to "Sullivan Community Council." Do not delay your child's registration or your own by making your check out to the wrong organization.
We now are only sending text alerts out by each program. Sign up for only those you need to know!
Only interested in text alerts for certain programs?
Effective immediately, we will only be sending text alerts out by program/category below. Be sure to sign up for those that are of interest to you!
To register for the below categories, text the keyword shown after each program/category to 84483 and you'll be all set!
Adult Leagues - sccadults
Archery Program - sccarchery
Cheerleading - scccheer
Dance Program – sccdance
Find the Tinman's Heart - tinman
Fitness Programs - sccfitness
Kickball/Dodgeball - sccball
Kid's Zumba - scczumba
Microbear Soccer - sccbear
Miori Martial Arts - sccmiori
Playgrounds - sccpark
Preschool Program - sccpreschool
Senior Fitness Programs - seniorfitness
Ski Club - sccski
Soccer Programs - soccerscc
Special Events - sccevents
Start Smart Programs - startsmart
Tennis Programs - scctennis
Toddler Time - scctoddler
Wrestling Program - sccwrestling
Youth Basketball Program - sccbball
Youth Volleyball - sccvball
Are You Connected?
Stay on top of all programs coming up by enrolling in our Email Alerts and by "liking" us on Facebook. When new program details are announced or a new brochure is released, we'll email the news directly to you... often before it is even available to the public. Click on the titles below to register for one or both.